Mark Anthony Private Culinary Services, LLC specializes in bringing high quality culinary, and full-service event coordination for clients with discerning tastes and attention to detail. Our company focuses on providing extraordinary dining experiences to your home or venue.
Petite Texas Crab Cakes
Lump Crab combined with diced Red Bell Peppers, Red Onions & Fresh Jalapeño Chiles, Fresh Cilantro, and Japanese Bread Crumbs
Mississippi Fried Catfish
Fresh Catfish Fillets seasoned with traditional Creole Seasoning, Fried in a dusting of Flour & Cornmeal; served with a Lemon-Garlic Aioli
Grilled Garden Vegetables
Fresh Asparagus, Carrots, Yellow Squash, Red Bell Peppers & Red Onions, tossed with Extra Virgin Olive & Thyme
Mushroom & Leek Croquettes
Blend of Tender Leeks, Shiitake Mushrooms, Butter, Fresh Thyme, Oregano, Gruyere & Parmigiana-Reggiano Cheeses & Panko Bread Crumbs
Spanish Paella
The Authentic Dish of Spain made with Long Grain White Rice, Chicken Stock, Yellow Onions, Fresh Garlic, Red & Green Bell Peppers, Green Peas, Plum Tomatoes, Roasted Chicken, Gulf Shrimp, Clams, Mussels, Chorizo, Parsley, Smoked Paprika, Fresh Thyme, Spanish Saffron; garnished with Lemon Wheels
Louisiana Bread Pudding
Blend of French Breads with a Traditional French Custard, blended with Raisins, Cinnamon, Nutmeg
Grits & Beef Tenderloin Grillades
Southern Buttery Grits with Beef Tenderloin Grilles with Onions, Garlic, Green & Red Bell Peppers, Butter, Mushrooms, Bay Leaves, Fresh Thyme, Cayenne, Basil, Oregano, with Beef Stock
Chicken, Sausage & Shrimp Jambalaya
Long Grain White Rice cooked with Andouille Sausage, Chicken and Shrimp, Garlic, Onions, Celery, Bell Peppers, Stewed Tomatoes & Bay Leaf, Seasoned with Traditional Creole Spices & Herbs
Grilled Yucatan Chicken Skewers
Boneless Skinless Chicken Thighs marinated in Lime & Orange Juices, Canola Oil, Ancho Chile Powder, Chipotle in Adobo Sauce & Fresh Garlic.
Empanadas De Carne
Puff Pastry filled with Minced White Onion, Garlic, Beef Tenderloin, Raisins, Green Olives, Mustard, & Cumin.
Sweet Potato Brochettes
Sweet Potato Wedges tossed with Extra Virgin Olive Oil, Kosher Salt & Black Pepper; wrapped in Smoked Bacon and Oven Roasted; Drizzled with Steen's Cane Syrup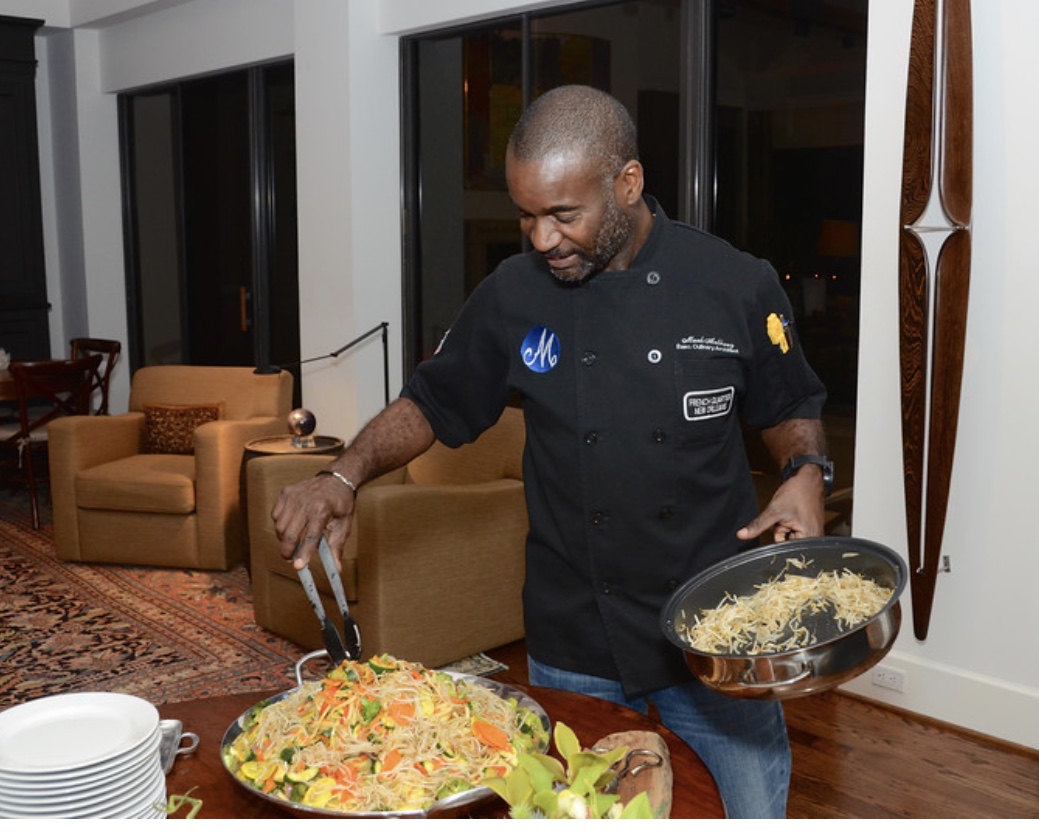 Sweet Potato Brochettes
Smoked & Chicken Fried Quail
Heirloom & Beefsteak Tomato Salad with Grilled Shrimp & Blue Cheese Crumbles
Texas Petite Crab Cakes
Napa Chicken Salad Cones
Coconut Thyme Grits & Blackened Gulf Shrimp
Smoked Double-Cut Morrocan Lamb Chops
Location
Greater Houston Area
Houston, TX
Hours
Mon - Fri, 9 am – 8 pm
Sat - Sun, 10 am – 8 pm
Contact
(832) 463-1858
markanthony@markanthonypcs.com